Below we will list all local aviation locations we know about
Abergavenny
The Byre, Hardwick
NP7 9AB 51.79614, -2.99045
Based here in 01/22 were
G-CIMD
Pioneer,
G-DTOY
C42,
G-MATB
Robin,
G-OHJE
Pioneer,
G-RVIA
RV-6,
G-SLIP
Easy Raider,
G-WALZ
Sky Ranger and
G-XCIT
Pioneer
Ammanford
2475 Sqn ATC - Pen-y-Banc Road
SA18 3DY 51.78736719, -4.00342893
WH739
Canberra B.2 Nose
f/n 02/86 l/n 03/19
Scrapped 19MU St Athan; SOC 27/07/76
Picture credit IanG
Bassaleg
Croes-carn-einion

Farm, Pentrepoeth Road 51.571539, -3.073903
Private strip, based was Robin R3000/120

G-PAVL

until it suffered an accident and departed.
Brecon Beacons
Absolute Adventure, Near Craig-y-Nos and Penwyllt
51.818475, -3.670742
At adventure group Hostel
XS735/R

Dominie T.1 fuselage
f/n 04/06 l/n 07/11, departed
ex DARA St.Athan, for sale 2011, reported
Northbound on the A46 Stratford bypass on 15/08/13 on delivery to a private owner at Walcott, Lincolnshire
Picture credit MF
Bridgend
Princess of Wales Hospital, Coity Road,
CF31 1RQ 51.51798, -3.56949
HLS, rarely used
Police Headquarters, Cowbridge Road
CF31 3SU 51.49855, -3.5671
No dedicated HLS, but the Police helo occasionally lands here
Caerphilly
Celtic Energy Ltd
CF83 2AX
Agusta A109E

G-TRNG

is owned by this company. There appears to be no HLS at this location but it visits various sites in S.Wales. It is based at Gloucester.
Cardiff
Blackweir Ambulance Station, North Road
CF10 3DX 51.49215, -3.19153
Sports Field nearby occasionally used by larger helos
Cardiff University School of Engineering
XX263
Hawk T.1A ..arrived early 2018 from Shawbury, bare metal, to SWAM Restoration Hangar 22/04/22
Maindy Barracks, Whitchurch Road
CF14 3YE 51.49873, -3.18687
HLS, regular use
University Hospital of Wales ("the Heath"), Heath Park
CF14 4XW 51.50618, -3.19079
Landing pad, regular use
Cardiff City
[formerly Tremorfa]
Heliport - EGFC
Foreshore Road, Eastmoors, Cardiff
CF10 4LZ 51.467500, -3.137500
Owned by Cardiff Council and previously operated by the Veritair Utilities Division of British International Helicopters, part of the Patriot Group
. All based helicopters left by 08/14 and the heliport closed on 30/11/14 after BIH withdrew from its operating contract.
New 50-year lease signed 04/16 by Huw Evans and Roy Steptoe of Cardiff City Heliport Ltd. Heliport re-opened 01/07/16 as Cardiff City Heliport.
Company gave up the lease mid 2018 and running of the heliport taken over by new lessee, Wales Air Ambulance, on 01/07/18.
G-WASC
Eurocopter EC135T2+ Childrens Air Ambulance Wales ..transferred from Dafen base 04/12/17
Picture credit Roger Winser
Carew Cheriton
Carew Control Tower Group, Pembrokeshire
SA70 8SX 51.6918, -4.8184
VM325

Avro Anson C.19
arrived 08/05 l/n 12/15
Picture credit Roger Winser taken 21/04/10
Castlemartin Range
Merrion, Pembrokeshire
SA71 5EB 51.63228, -4.97854
HLS
Cefn Mably
Cefn Mably Farm Park
Off the M4 Northeast of Cardiff
CF3 6XL, 51.55238, -3.10948
N5834N

Rockwell Commander 114 c/n 14383
f/n 06/12 but probably arrived in Autumn 2010 ..for sale mid 2020 and

departed

to Cromhall Quarry, Cromhall, South Gloucestershire. Submerged as a diving attraction.
Force landed in reed bed in Cardiff Flats area of the Severn Estuary at 17:21 on 23/10/98 after loss of engine power over the Bristol Channel. Pulled ashore after 40 hours in tidal zone and dumped at Peterstone until Autumn 2010.
Pictured on 08/08/14 credit StuC
Cowbridge
7 miles West of Cardiff
Based in the area was Enstrom 480B

G-CUDY
..sold to a Shoreham owner 11/05/17 and replaced by Agusta A.109C

2-HELO

c09/17
Task Force Paintball - 1.3 miles WNW of village off A48
CF71 7RQ 51.46965419, -3.47850975
XG592
Whirlwind HAS.7
f/n 11/95, l/n 12/14, not found 11/16, owners stated still present 07/20 but access not permitted due games
Departed Wales Aircraft Museum, Rhoose by 08/91 where it had arrived in 1978 from Wroughton
Picture credit IanG
Dafen, Llanelli
Opened June 2016 as the new HQ of the Wales Air Ambulance.
G-GDAY
Robinson R22 (0676)
ex Aberglassney House & ICAT, Rhoose. Mounted on a trailer and used as a travelling fund raiser by the Wales Air Ambulance charity.
Picture credit Hugh Trainer
G-HEMN
Eurocopter EC135T2+
G-WASC
Eurocopter EC135T2+ Childrens Air Ambulance Wales ..transferred to Cardiff HP 04/12/17
G-WASN
Eurocopter EC135T2+ ..departed late 03/17
G-WENU
Eurocopter H145 ..arrived late 03/17
Picture credit Roger Winser
Also noted here in September 2019 was another promotional Robinson R-22 pod, no registration visible or known.
Flemingston
Happy Jakes Touring Caravan Park, Flemingston, Barry
CF62 4QL 51.423753, -3.444016
G-CONY
/
N22746
BAe Jetstream 31-01
Glamping attraction, arrived from St Athan late June/early July 2020
Picture credit StuC when at St Athan
Fonmon Castle Park & Gardens
Fonmon, Vale of Glamorgan, CF62 3ZN
N470AC
Boeing 737-3L9/W fuselage
Arrived late 03/22 from GJD Services, St Athan. For use as a cafe.
XW320

/

71

BAC Jet Provost T.5A
Arrived 13/07/21 from St Athan for the summer season as an advertisement for SWAM. Returned to St Athan 12/21.

Picture credit StuC when at St Athan
Haverfordwest
Airfield
Fishguard Road, SA62 4BN
Reports from here are few and far between, the following are thought to be current:
F-GFOR Robin ATL
G-AVSD Piper PA-28-180
G-AVSE Piper PA-28-180
G-AYIG Piper PA-28-140
G-AYPG Cessna F177RG
G-BAYO Cessna 150L
G-BGXT TB10 Tobago
G-BHZR Bulldog 1210 ..poor state
G-BJOE Jodel D.120A
G-BLTT Slingsby T.67B ..dumped on airfield
G-BNAI Wolf Boredom Fighter
G-BPUA EAA Biplane
G-BPWR Cessna R172K
G-BRCV Aeronca 7AC
G-BROO Luscombe 8E
G-BVYF PA-31-350
G-BXVO Vans RV-6A
G-CCXR Mainair Blade
G-CECV Vans RV-7
G-CFKH CH601XL Zodiac
G-CFSJ Jabiru J160
G-CIPA Pegasus Quik
G-DEWI RotorSport MTOSport
G-FANL Cessna R172K
G-FLYW Beech 200
G-IANJ Cessna F150K
G-JCIH Vans RV-7A
G-JFRV Vans RV-7A
G-LEEK Escapade ..damaged
G-SENX Piper PA-34-200T ..poor state
G-WARP Cessna 182F
N1320S Cessna 182P
N583CD Cirrus SR22
Welsh Spitfire Museum
7 Bridge St, Haverfordwest, SA61 2AL
http://welshspitfire.org/
G-CFGA
/
JG668
Vickers Supermarine Spitfire VIII ..on rebuild to 2-seat version
Picture credit Roger Winser
Kenfig Hill
2117 Sqn ATC - Pwll-y-Garth St
CF33 6EF 51.5330836, -3.68144174
WT569
Hunter F.1
f/n 1964
l/n 03/19
Allotted 03/64, ex GIA 7491M (allocated 21/11/57) at 4 SoTT St Athan ..departed 09/11/22 to MORAYVIA, Kinloss, Scotland
Picture credit Richard Peckham
Llangeinor
AirBorne Systems Europe (ex IrvinGQ) - 4 miles N of Bridgend
CF32 8PL 51.57751383, -3.56906253
35515/49
SAAB J-35F Draken
f/n 06/04 l/n 03/19 in a silver colour scheme
Ex GIA at Stockholm-Arlanda. Arrived 17/06/04 via Immingham docks
Picture credit IanG
Llantrisant
Royal Glamorgan Hospital, Ynysmaerdy
CF72 8XR 51.5464, -3.39425
HLS, occasional use
South Wales Fire & Rescue Service HQ
Forest View Business Park
CF72 8LX 51.55314, -3.39763
HLS, occasional use
Manmoel
, Blackwood, Gwent
NP12 0HY 51.7058, -3.1736
Preserved on a farm was:
(
E-408
/
G-9-436
)/"
WT720
/
B
" Hunter F.51 ..arrived 12/15, ex North Scarle, Lincs. Sold on e-bay and departed to Lee-on-Solent by 19/07/18.
Margam
Old Park Farm
SA13 2TG 51.5499, -3.72043
Farm strip, the following have been reported in the last year or two. Most, if not all, are kept in individual hangarettes and few, if any, can be seen unless active. The strip is on fenced off farm land and no unauthorised access is possible.

G-ANFI/DE623
de Havilland DH.82A Tiger Moth ..arrived 20/07/21 from Cardiff
G-AWVB

Jodel D.117A ..badly damaged on runway over-run here
G-BJOE

Jodel D.120A Paris-Nice

G-BRWR
Aeronca 11AC Chief ..arrived 20/07/21 from Cardiff
G-BSZB Stolp SA.300 Starduster Too
- spends time at Swansea
G-BXRF

Scintex CP.1310-C3 Super Emeraude
- spends time at Swansea
G-BXYE

Scintex CP.301-C1 Emeraude ..wings only
G-BYLF

Zenair CH.601HDS Zodiac
G-BYSN

Rans S6-ES Coyote II
G-BZAK

Raj Hamsa X'Air 582(9)
G-BZDB

Thruster T600T 450 JAB
G-BZDK Raj Hamsa X'Air 582(2) ..arrived 30/08/16
G-BZIM

Cyclone Airsports Pegasus Qauntum 15-912

G-CCAD
Pegasus Quik
G-CCNF

Raj Hamsa X'Air Falcon 133(1)
G-CDAK

Zenair CH.601UL Zodiac ..landing accident 12/13, canx as pwfu 22/01/15
G-CDHU

Best Off Skyranger 912(2)
G-CEHS

CAB CAP.10B
G-CEZV
Zenair CH.601HDS Zodiac
G-CGOV
Raj Hamsa X'Air 582(2)
G-CHJJ

Medway Microilights Clipper 80 ..arrived c09/15
G-CWMT

Dyn'Aero MCR-01 Ban'bi
G-CXIP

Thruster T600N Jab Sprint
G-ENEE

CFM Streak Shadow

G-FLDG
Skyranger 912(2)
G-JAYS
Skyranger 912S(1)
G-
JBUL
Skyranger 912(2) ..badly damaged in a forced landing in a field next to Margam 29/06/15 after engine stopped soon after take-off, cancelled 23/07/15 as destroyed
G-LDAH

Skyranger 912(2)


G-MGEC Rans S6-ESD-XL Coyote II
G-MNXX

CFM Shadow B
G-MWAC

Solar Wings Pegasus XL-Q
G-MWUK

Rans S6-ESD Coyote II
G-MWMW Murphy Renegade Spirit UK
G-MYTH

CFM Shadow Series CD
G-MZDG

Rans S6-ESD-XL Coyote II
G-MZKA

Solar Wings Pegasus Quantum 15
G-OATZ

Vans RV-12

G-SGWA
Comco Ikarus C42 FB100 Charlie ..arrived 10/04/21
G-WEEK
Skyranger 912(2)
Merthyr Tydfil
Prince Charles Hospital
CF47 9DT 51.7635, -3.3869
HLS
Mountain Ash
1184 Sqn ATC - Miskin Road
CF45 3UB 51.67895, -3.374333
G-ATOL

PA-28-140 Cherokee Cabin
arrived c02/10 l/n 08/11 departed c18 and building demolished
In use as simulator
Picture credit RichT
Nantgarw
National Museum of Wales Collection Centre
CF15 7QT 51.56154, -3.26355
XM300

Wessex HAS.1
f/n 98 l/n 10/19
Arrived Wales Aircraft Museum, Rhoose from Farnborough 01/07/84, to Welsh Industrial & Maritime Museum, Cardiff Docks 1991, to Nantgarw when the Museum closed in 1998
New Inn
Mark Gauntlet - near Pontypool
QA-12

Hunter FGA.78 Cockpit
f/n 01/02 l/n 07/11
Ex Qatar AF. Scrapped Bournemouth 10/95, cockpit to Woking 96 and collected from there late 2001/early 2002
XE985
Vampire T.11 pod
f/n 07/11 l/n 07/11
Moved from Exeter 2011
Pembrey
RAF Pembrey Sands Air Weapons Range
SA16 0HZ 51.71292, -4.3102
XR523

Wessex HC.2 (relatively intact) ..exercise trainer, f/n 07/16
XX958/BK

Jaguar GR.1 ..range target, arrived from Cosford 02/07/19
XV372

Sea King HAS.1 (unmarked, stripped, cabin section)
..
exercise trainer,
f/n 07/16
XX962/P
Jaguar GR.1B ..
range target,
f/n 02/09, broken-up c07/19, nose to Coningsby
XX966/JJ
Jaguar GR.1A
..
range target,
f/n 02/09 l/n 3/12
Pembrey Airport
SA16 0H2 51.7125, -4.3111
Regularly used by military helicopters for fuel stops
For residents see the "Swansea & Pembrey" page under the header picture
Pentyrch
Delta Force Paintball Cardiff
Tyla-Morris Farm, Pentyrch, Cardiff, CF15 9QN
ZD565
/
IR-404
Lynx HMA.8SRU ..arrived c01/18
Picture credit John Bulpin
Pyle
AMSS Ground Support Equipment,
Village Farm Industrial Estate, Pyle, Bridgend, Mid Glamorgan CF33 6NU
51.52642, -3.68911
EN398/JE-J

Spitfire FSM
f/n 12/13
Gate guard
Picture credit Geoff Jones
Redberth
Apple Camping Site, Redberth, Pembrokeshire, SA70 8RX
Website
Fuselages in use as glamping accomodation.
A6-EID
Airbus A319-132 (1947) ..fuselage sections arrived 2019 from St Athan
N25AG
Lockheed Jetstar 2 (5202) ..arrived 2016 from Kemble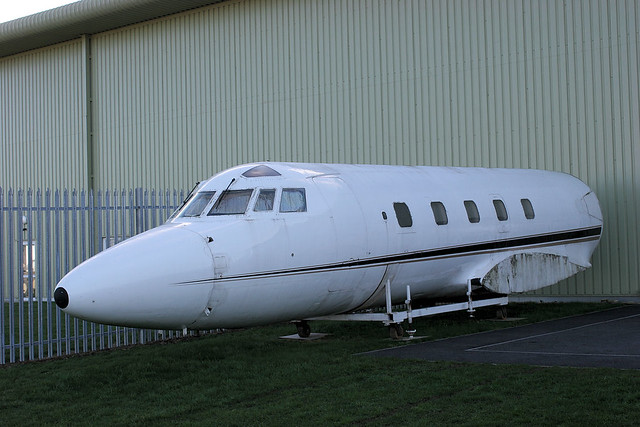 Pictured at Kemble, credit StuC
Sennybridge Range
Active military range, Powys
Aircraft is located at 52.036896, -3.608741 on Range F near the FIBUA area
Viewable from 52.029313, -3.631934, looking over the "German Village"
VZ568
Gloster Meteor F.8
arrived 10/65 l/n 11/16
Swansea
Airport
SA2 7JU 51.602838, -4.068038
For residents see the "Swansea & Pembrey" page under the header picture
Morriston Hospital, Morriston
The hospital has an elevated helipad that is used regularly by Wales Air Ambulance and Rescue helicopters. A lift takes the casualty down one level to ground level for the short journey to the A&E Department.
Penllergaer
The Skoda dealership has on display Robinson R22 Beta
G-RVRS
aloft a vehicle at the front of the premises
Picture credit Roger Winser
King George V Playing Fields, Sketty
The playing fields are near Singleton Hospital and are used by Air Ambulance and Rescue helicopters mainly for urgent cases needing the hospital's baby care unit.
Treforest
Aircraft Maintenance Centre, University of Glamorgan - Treforest Campus
CF37 1DL 51.588816,-3.328106
G-JXTC/PH-KJG

BAE Jetstream 3108 (690)
f/n 12/09 l/n 11/15
Arrived 08/12/09 by road from Eindhoven
XN584
/
E
BAC Jet Provost T.3A
f/n 11/15
Arrived by road from Bruntingthorpe.
Departed
to SWAM, St Athan 04/08/21.
Picture credit Ade Pitman
Industrial Estate, University of Glamorgan
XX285

Hawk T.1 centre/rear fuselage section
f/n 03/10 l/n 03/10 -
redundant section from Hawk Mid-Life Update programme.
Picture credit Rob Gibbons
also located nearer to the road were a set of wings but both had disappeared from the positions by 3/13. Taken indoors?



Upfield Farm, Whitson, Newport


Farm strip
NP18 2PG 51.55017,-2.93547


G-CEUW

Zenair CH.601XL Zodiac





Ystrad Mynach


The College
CF82 7XR 51.634386, -3.241619


unmarked

Jetstream 41 EMU (based on Jetstream 200 G-ATXJ)
Arrived 11/02 from Cardiff Airport, l/n 03/10, not seen 21/07/11 possibly inside,

scrapped in 2014






Picture credit Rob Gibbons




G-EFRY

Light Aero Avid Flyer Aerobat
f/n 11/16
Inside